A tribute to a special man: My father-in-law, Bob Munn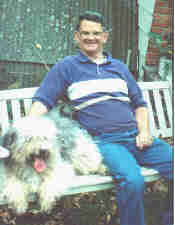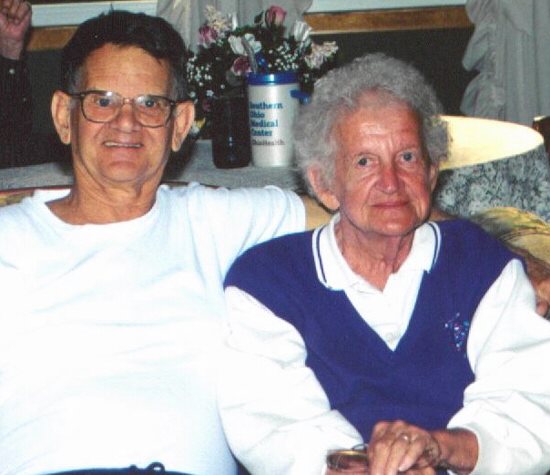 Bob & his dog Bob & his sister, Helen Brown,
just a few weeks before his death
.
Blessings to everyone.
May brought sad news for us here on earth, but the angels rejoiced that another loved one is in Heaven. Bob went home to be with the Lord on Fri. May 12, 2000, at 8:45p.m. We prayed for him to go peacefully & God answered those prayers. It was only 3 wks from the time that we found out about this horrible cancer which had taken over his body, but it gave us time to say our goodbyes, so it was a bittersweet time for us.
Bob knew it was near, as on Thurs., he asked for a hug from me & told me to take care of his grandkids & said "I love you. Thanks for everything that you have done for me." What a precious moment that was for me. I thank God for giving me this wonderful person for my father in law.
We sat by his bed from 1p.m. on, telling him that we loved him & letting him know that we were there. We prayed, we read from the bible. We told him that we will see him again some day for a great reunion in Heaven. He is probably telling "Weezie" all about Robby! [for those of you who don't know who Weezie is, she was Bob's sister who went to be with the Lord in 1989. She was very special to us & she missed getting to see Robby.]
Bob was 70 yrs. old. He & Maxine would have been married for 50 yrs. July 2000. What an accomplishment!
Thank you Lord that we can know that we will see our loved ones again someday. I pray that if any of you who are reading this, do not know if you will be there for our grand reunion in Heaven, that you will ask Jesus into your heart today.
The family thanks all who prayed & helped us during this difficult time.
Love to you all. Dave, Cindy & family
For those who go on before us, let us picture this:


THE SHIP

I am standing upon the seashore. A ship at my side spreads her sails to
the morning breeze, and starts for the blue ocean. She is an object of
beauty and strength and I watch her until until at length she hangs like a
speck of white cloud just where the sea and sky come down to mingle with each
other. Then someone at my side says, "There, she's gone".

Gone where? Gone from my sight--- thats all. She is as large in mast and hull
and spar as she was when she left my side, and just as able to bear her load
of living freight to the place of destination. Her diminished size is in me,
not her; and just at the moment when someone at my side says, "There, she's gone,"
there are other eyes watching her coming, and other voices ready to take up
the glad shout, "Here she comes!"
author unknown
The following tribute was written for Bob,
by his new grandson-in-law, Allen Wilson:
I was privileged to have known him
If only for a little while
And I hope I'm as well respected and loved
When I've walked my last mile
remembered for whom I was
And everything I stood for
To know no fear through faith in God
When I reach Heaven's door
To know as he knew that there's a better place
Meant for the pure of the heart
Where the end is not the end at all
But really only the start
To know the loved one's you've left behind
Saw the life you've lived
And the truth and wisdom that you impart
Is one of life's rarest gifts
To never have to say goodbye
Just so long for a little while
For one day on the other side
He'll greet us all with a smile
Till then he'll be looking down
On all of us here below
Looking down with love and prayers
Watching his family grow
Our child will know his pappaw
And the legacy he left behind
We'll talk of him often-He'll never be forgotten
This man so gentle and kind

Allen Wilson
May 2000000
to the main page

Counter added 6-27-02