HH DNA related topics, HFE testing, results, carriers, etc.
Click on the titles to get to the abstracts/articles, etc..
***Located at the bottom of the page are links to articles on HH withOUT the known HFE mutations as well as genetic discrimination issues.
---
Click here for a list of labs that offer DNA testing by PCR for adults/children for hereditary hemochromatosis.
[U.S. & Canada only are listed here]
---
A previously undescribed nonsense mutation of the HFE gene. Clin Genet 2002 Jan 61:40-42. Beutler E, Griffin M, Gelbart T, and West C The Scripps Research Institute, Department of Molecular and Experimental Medicine, Division of Hematology, La Jolla, CA, USA; Maine General Medical Center, Waterville ME, USA. A patient with clinically manifest hereditary hemochromatosis was found to be heterozygous for the c.845 A-->G (C282Y) mutation. As simple heterozygotes for this mutation do not develop the hemochromatosis phenotype, the coding region of the patient's HFE gene was sequenced and a previously undescribed nonsense mutation was identified at c.211 C-->T (R74X).
Arthropathy in hereditary hemochromatosis Curr Opin Rheumatol 2001 Jan; Arthropathy is one of the leading clinical manifestations of hereditary hemochromatosis (HH). Although cirrhosis of the liver is crucial for mortality in patients with HH, arthropathy has the greatest impact on the quality of life
Asymptomatic hemochromatosis subjects: genotypic and phenotypic profiles
Blood, 1 December 2000, Vol. 96, No. 12, pp. 3707-3711; Ronald L. Sham, Richard F. Raubertas, Caroline Braggins, Joseph Cappuccio, Margaret Gallagher, and Pradyumna D. Phatak; From the Department of Medicine, Rochester General Hospital, the Mary M. Gooley Hemophilia Center Inc, and The University of Rochester School of Medicine and Dentistry, Rochester, NY; and The Centers for Disease Control and Prevention, Atlanta GA. Our study demonstrates that TS screening will identify many individuals with only modest degrees of iron loading who may not meet traditional phenotypic diagnostic criteria but who have genotypes associated with iron loading. Those with lower degrees of iron overload are less likely to be C282Y homozygotes.
Biochemical and Genetic Markers of Iron Status and the Risk of Coronary Artery Disease: An Angiography-based Study. Clin Chem 2002 Apr;48(4):622-8 Bozzini C, Girelli D, Tinazzi E, Olivieri O, Stranieri C, Bassi A, Trabetti E, Faccini G, Pignatti PF, Corrocher R. Department of Clinical and Experimental Medicine, Department of Mother and Child, Biology and Genetics, and. the Institute of Clinical Chemistry, University of Verona, 37134 Verona, Italy. CONCLUSIONS: Our results do not support a role for biochemical or genetic markers of iron stores as predictors of the risk of CAD or its thrombotic complications.
Clinical aspects of hemochromatosis. Transfus Sci. 2000 Dec Brissot P, Guyader D, Loreal O, Laine F, Guillygomarc'h A, Moirand R, Deugnier Y. The diagnosis can, from now on, be ascertained on the sole association of a plasma transferrin saturation (TS) over 45% and homozygosity for the C282Y mutation. Liver biopsy is only required to search for cirrhosis whenever there is hepatomegaly and/or serum ferritin >1000 ng/ml and/or elevated serum AST.
Clinical Consequences of New Insights in the Pathophysiology of Disorders of Iron and Heme Metabolism Hematology 2000 The American Society of Hematology The screening strategy could be based on the assessment of serum transferrin saturation in adults aged 18 or more. Genetic testing testing for C282Y would be confined to individuals with transferrin saturation > 45%. This strategy would then avoid the ethical, logistical, and financial problems raised by systematic genetic testing as well as the societal impact of discovering a genetic mutation in asymptomatic persons without a disease. It is, in fact, essential that major changes occur in the attitudes towards unexpressed or slightly expressed HFE homozygosity, especially by insurers and health care administrators, to avoid any adverse genetic discrimination.
Clinical management of iron overload. Gastroenterol Clin North Am. 1998 Sep HHC is a common inherited disorder, characterized by iron accumulation in the liver, heart, pancreas, and other organs. The clinical consequences of systemic iron loading are diverse and not always improved with iron reduction therapy.
Clinical Studies of Haemochromatosis Queensland Institute of Medical Research, Hepatocellular Cancer Laboratory, Professor Lawrie Powell Knowledge of haemochromatosis, its prevention, the type and severity of symptoms it causes, the availability and nature of treatment, ability of sufferers to participate in normal activities, and longevity are relevant issues for community education. Members of an informed public can mobilise support for the early diagnosis of haemochromatosis, encourage people to be tested for the disorder and influence the debate about screening.

Co-inheritance of mutations in the uroporphyrinogen decarboxylase and hemochromatosis genes accelerates the onset of porphyria cutanea tarda Homozygosity for the C282Y hemochromatosis mutation was associated with an earlier onset of skin lesions in both familial and sporadic porphyria cutanea tarda. J Invest Dermatol 2000 Nov
Diagnosis and management of hemochromatosis
by Dr. Anthony Tavill, Director of the Maurice and Sadie Friedman Center For Digestive Diseases and Liver Disorders, Mathile and Morton J. Stone Professor of Digestive Diseases and Liver Disorders at the Mt. Sinai Medical Center, Professor of Medicine and Nutrition at Case Wetern Reserve University. [Excellent & thorough article of diagnosis & treatment. This is a pdf file]
Diagnosis and treatment of genetic hemochromatosis Rev Prat. 2000 May 1 [Article in French]
Moirand R, Guillygomarc'h A, Brissot P, Deugnier Y. The disease can be lethal due to liver disease, carcinoma or heart disease, but life expectancy goes to normal if patients are treated before the occurrence of cirrhosis. Treatment relies on regular venesections. Familial screening is essential.
Differential HFE allele expression in hemochromatosis heterozygotes
Gastroenterology 2000 Oct We demonstrate the existence of differential allelic expression of the HFE alleles, suggesting that the (187C > G; H63D) mutation plays a role in the disease expression in H63D heterozygotes, in particular when associated with environmental or host factors.
Disease-Related Conditions in Relatives of Patients with Hemochromatosis
Zaneta J. Bulaj, M.D., Richard S. Ajioka, Ph.D., John D. Phillips, Ph.D., Bernard A. LaSalle, B.S., Lynn B. Jorde, Ph.D., Linda M. Griffen, B.A., Corwin Q. Edwards, M.D., and James P. Kushner, M.D. Volume 343:1529-1535 November 23, 2000 Number 21 In conclusion, our data emphasize the importance of screening relatives of persons with hemochromatosis.
End-stage liver disease without hemochromatosis associated with elevated hepatic iron index.
J Hepatol. 1998 Aug;29 Cotler SJ, Bronner MP, Press RD, Carlson TH, Perkins JD, Emond MJ, Kowdley KV. Department of Medicine, University of Washington, Seattle, USA. (i) Serum transferrin saturation and hepatic iron index lack specificity for hereditary hemochromatosis in end-stage liver disease. (ii) Genotyping for Cys 282 Tyr may provide the best method to identify hereditary hemochromatosis in the setting of end-stage liver disease.
Evaluation and interpretation of iron in the liver Semin Diagn Pathol 1998 Nov Because homozygosity for the C282Y mutation is diagnostic of the condition regardless of the liver iron concentration-to-age ratio, indication for liver biopsy in C282Y homozygotes is restricted to the assessment of prognostic lesions, such as fibrosis and iron-free-foci.
Genetic Alliance Inc.
The Genetic Alliance is an international coalition representing more than 300 consumer and health professional organizations with millions of members--all working together to promote healthy lives for everyone impacted by genetics.
Genetic Haemochromatosis: A guideline on Diagnosis & Therapy compiled on behalf of the Clinical Task Force of the British Committee for Standards in Haemotology 2/2000 [a pdf file]
Haemochromatosis and HFE gene. Acta Gastroenterol Belg. 1999 Oct-Dec The practical management of haemochromatosis has been greatly modified, since liver biopsy is no more necessary for diagnosis in C282Y homozygotes, and is only needed for exclusion of cirrhosis. Family screening has also greatly benefited from genotyping.
Haemochromatosis: iron still matters. Intern Med J 2001 May-Jun Our ability to detect those predisposed to haemochromatosis is greatly enhanced by testing for HFE mutations. Although the precise definition of iron overload is debated, a diagnosis of haemochromatosis cannot be made without demonstrating increased body iron stores.
Hemochromatosis can now be appropriately defined as the presence of two hemochromatosis alleles with or without organ injury, and with or without the presence of iron overload. [I have not been able to retrieve the url to the website from where this came, so if anyone locates it, please let me know!]
Hemochromatosis Powell LW, Yapp TR Clin Liver Dis 2000 Feb: It is now apparent that iron, even in the modest tissue concentrations, can act as a co-factor in potentiating cell injury in other liver diseases.
Hemochromatosis, A simple genetic trait,
Dr. Richard D. Press, Oregon Health Sciences University With the discovery of the causative gene, the disorder stands revealed as America's single most common mendelian disease. Unlike other genetic diseases, it is already curable. Indeed, genetic screening makes it potentially preventable.
Hemochromatosis: Conemaugh Health System Hemochromatosis is a condition that develops when too much iron builds up in the body. Excess iron is stored in the organs, such as the kidneys, liver, and heart, and in the joint tissues.
Hemochromatosis, Cooley Dickinson Hospital

Editor: George R Bowers MD CDH Oncology

January 2000 Volume 4: No. 1. Hemochromatosis is a common, genetically transmitted disease. The diagnosis of hemochromatosis is sometimes difficult and frequently missed. This issue will review the pathogenesis, diagnosis and treatment of this fascinating disease. Ms. Kathy Fleming will review the management of a most troubling complication of therapy---lymphedema.
Hemochromatosis: diagnosis and management. Bacon BR.Gastroenterology 2001 Feb HFE mutation analysis has strengthened our ability to diagnose HH accurately and is useful in family studies. HFE mutations may play a contributory role in some patients with PCT, NASH, or chronic HCV.
Hemochromatosis in Ireland and HFE. Blood Cells Mol Dis. 1998 The allele frequency of 14% for the C282Y mutation in our control population is the highest reported and supports the hypothesis of a Celtic origin for the hereditary hemochromatosis gene.[pdf file]
Hemochromatosis: Life Extension Foundation website. Disease, Prevention & Treatment 3rd editon. Dietary & Vitamin recommendations listed here including calcium for blocking of iron absorption.
Hemochromatosis Special American Liver Foundation newsletter, ALF Progress, Vol. 21 No. 1, Summer 1999 The ALF newsletter created three scenarios based on the real life ethical, economic and medical quandaries posed by hemochromatosis, and asked three experts from divergent fields to respond with their opinions. The experts are: Bruce R. Bacon, MD [Director, Div. of Gastroenterology & Hepatology, Saint Louis University School of Medicine, St. Louis, M0]; medical ethicist Mark A. Rothstein, Esq. [Director, University of Houston Law Center, Health Law & Policy Institute, Houston, TX] and hemachromatosis patient Gayle Hoffman.
Hepatitis C, Iron, and Hemochromatosis Gene Mutations A Meaningful Relationship or Simple Cohabitation? Dale C. Snover, MD From the Departments of Pathology, Fairview Southdale Hospital, Edina, MN, and the University of Minnesota Medical School, Minneapolis, MN. It would seem prudent to routinely perform iron stains for all patients with hepatitis C (a practice currently done in many laboratories on all liver biopsy specimens to rule out hemochromatosis) and to report iron by location of deposition (portal tract, hepatocyte, Kupffer cell) and by intensity.
Hereditary Hemochromatosis--A Risk Factor for Cardiovascular Disease The HH mutation is a human genetic model of disturbed iron metabolism, which facilitates research to the mechanism of HH and iron involved in cardiovascular disease. We expect that in the near future, the mechanism of disturbed iron metabolism leading to cardiovascular disease in human will be better understood.
Hereditary Hemochromatosis
CME Activity, Release Date: 2/28/2000 Expiration Date: 2/28/2002 From the February 2000 Issue of Physician Assistant Objectives: After reading the article, the reader should be able to:
1. describe the pathophysiology of hereditary hemochromatosis;
2. recognize the clinical symptoms and signs of hereditary hemochromatosis;
3. outline screening and evaluation testing; and
4. provide accurate diagnosis, management, and treatment.
Hereditary Hemochromatosis FamilyPractice.com Robert B. Hash, MD,

Department of Family Medicine, Mercer University School of Medicine, Macon, Ga.

[J Am Board Fam Pract Dec. 2000]

Considering the prevalence of the disease, it is important for physicians to consider it in the differential diagnosis when patients complain of the common signs and symptoms. For most patients hereditary hemochromatosis can be successfully treated in the physician's office. Early diagnosis and treatment, before signs of iron toxicity, if possible, can result in improved quality and quantity of life for many patients.
Hereditary hemochromatosis. J Fam Pract. 1997 Mar Hereditary hemochromatosis is a genetic disorder of iron metabolism that has an excellent prognosis if diagnosed early.
Hereditary hemochromatosis Rev Med Interne 2000 Nov At present, any patient admitted with an isolated case of asthenia, or with arthralgia or hypertransaminasemia should be examined via transferrin-saturation testing: if the transferrin saturation coefficient is > 45%, then the presence of the C282Y mutation should be investigated to confirm the diagnosis of hemochromatosis. A liver biopsy is no longer necessary to establish the diagnosis.
Heterogeneity of hemochromatosis in Italy The frequency of C282Y homozygotes was 64%, with a decreasing gradient from north to south. C282Y homozygotes showed more severe iron overload than the other HFE genotypes. Gastroenterology 1998 May.
HFE gene knockout produces mouse model of hereditary hemochromatosis Proc Natl Acad Sci U S A. 1998 Mar. Xiao Yan Zhou, Shunji Tomatsu, Robert E. Fleming, Seppo Parkkila, Abdul Waheed, Jinxing Jiang, Ying Fei, Elizabeth M. Brunt, David A. Ruddy, Cynthia E. Prass, Randall C. Schatzman, Rosemary O'Neill, Robert S. Britton, Bruce R. Bacon, and William S. Sly The knockout mouse model of HH will facilitate investigation into the pathogenesis of increased iron accumulation in HH and provide opportunities to evaluate therapeutic strategies for prevention or correction of iron overload.
HFE genotype in patients with hemochromatosis and other liver diseases. Ann Intern Med. 1999 Jun 15 Bacon BR, Olynyk JK, Brunt EM, Britton RS, Wolff RK. All 66 patients homozygous for the C282Y mutation of HFE had an elevated hepatic iron concentration, but approximately 15% of these patients did not meet a previous diagnostic criterion for hemochromatosis (hepatic iron index > 1.9 mmol/kg per year). Determination of HFE genotype is clinically useful in patients with liver disease and suspected iron overload and may lead to identification of otherwise unsuspected C282Y homozygotes.
HFE mutations in insulin resistance-associated hepatic iron overload.J Hepatol. 2000 Sep;33;33(3):515-6. No abstract available.

High frequency of the H63D mutation of the hemochromatosis gene (HFE) in malignant gliomas. Neurology 2001 Oct 9 No abstract available but if anyone gets access to the article, I would like to see it!
Histological evaluation of iron in liver biopsies: relationship to HFE mutations. Am J Gastroenterol. 2000 Jul Brunt EM, Olynyk JK, Britton RS, Janney CG, Di Bisceglie AM, Bacon BR. The use of histological evaluation for iron deposition is simple, assists in expanding information communicated from histopathologic observations, and may be clinically useful in determining the necessity of further evaluation of HFE genotype in subjects with histological evidence of hepatic iron overload.
Human Genetic Diseases E. Beutler, D. Balicki, L. Forman, T. Gelbart, C. Halloran, E. Boas, P. Lee, C. West Division of Hematology About 82% of U.S. patients with hereditary hemochromatosis are homozygous for the 845A mutation of the gene HFE. HFE, the product of this gene, is a class 1 MHC protein, and its role in regulating iron absorption is unknown. We are attempting to answer a number of important but difficult questions about HFE.
Intestinal expression of genes involved in iron absorption in humans. Am J Physiol Gastrointest Liver Physiol 2002 Apr;282(4):G598-607 Rolfs A, Bonkovsky HL, Kohlroser JG, McNeal K, Sharma A, Berger UV, Hediger MA. Membrane Biology Program and Renal Division, Brigham and Women's Hospital, Harvard Medical School, Boston, 02115, Massachusetts. The lack of appropriate downregulation of apical and basolateral iron transporters in duodenum likely leads to excessive iron absorption in persons with HHC.
'Iron' Gene Mutation Increases Heart Attack Risk
Full Health Nutrition Canada ArterialHealth e-News© December 1999 [located about halfway down the page] Carriers almost universally don't know that they are at increased risk... They have almost no increase in iron stores, but that small increase is significant and that small increase is probably what caused the increased incidence of heart disease deaths.
Iron in the era of molecular biology Pathol Biol (Paris). 1999 Nov Identification of the HFE gene and its C282Y and H63D mutations has improved the classification of iron overload disorders
Iron Overload (Hemosiderosis; Hemochromatosis) The Merck Manual of Diagnosis and Therapy Section 11. Hematology And Oncology Chapter 128. Hemochromatosis is often diagnosed late in the course of disease after significant tissue injury is present because the clinical symptoms are insidious and the extent of organ involvement varies; thus, the full clinical picture evolves slowly
Kimball Genetics
Hemochromatosis DNA- PCR analysis for both the Cys282Tyr and the His63Asp mutations
Making a Difference in Genetic Disease Endeavor VOLUME ONE NUMBER TWO Ernest Buetler M.D. It will be the largest such screening study ever undertaken. The NIH and the CDC have provided funding of more than $4,000,000 for these clinical studies and the basic studies of iron metabolism that will be performed in the Beutler laboratory.
Molecular genetics of hemochromatosis Ann Endocrinol (Paris) 1999 Sep Hemochromatosis is a recessive disorder of iron metabolism characterized by progressive iron loading of parenchymal organs, which accounts for clinical complications such as cirrhosis, diabetes mellitus, cardiopathy, endocrine dysfunctions and arthropathy.
Mutations in the hfe gene and their interaction with exogenous risk factors in hepatocellular carcinoma: Blood Cells Mol Dis 2001 Mar-Apr; These data indicate that the prevalence of the main mutation associated with hereditary hemochromatosis is significantly higher in cirrhotic Italian patients with hepatocellular carcinoma compared to a normal population and suggest that heterozygotes for HFE mutations exposed to hepatitis virus infections or who had been alcohol abusers could have an increased risk of developing cirrhosis and later liver cancer than people without the mutations exposed to the same risk factors.
Patents increasing costs of blood test, researchers say At issue are patents on the most common genetic mutations linked to hereditary hemachromatosis or iron overload, a surprisingly common and easily treatable disorder that can cause fatal damage to the heart and liver. Newspaper article from The Mercury News in San Jose, Calif. quotes David Snyder of AHS.
Polymorphisms in the HFE gene. Hum Hered. 1999 Jan The aim of this study was to search for new mutations in the HFE gene in 16 such patients. Direct sequencing of exons and 3 introns did not reveal any new mutation but identified a few polymorphisms
Recognition and management of hereditary hemochromatosis. Am Fam Physician 2002 Mar 1 65:853-60 Brandhagen DJ, Fairbanks VF, and Baldus W Mayo Medical School, Rochester, Minnesota, USA. The HFE gene test is useful in confirming the diagnosis of hereditary hemochromatosis, screening adult family members of patients with HFE mutations and resolving ambiguities concerning iron overload.
Relating Genomic Research to Patient Care JAMA 11/2000 Educating health care professionals about the complexities of the genetics of adult disease (in addition to congenital illness) is an important goal, and one disease model that is useful for this purpose involves hemochromatosis.
Role of the hemochromatosis gene in prophyria cutanea tarda. Prospective study of 56 cases
Ann Dermatol Venereol. 2001 May [Article in French] Compound heterozygous and to a lesser degree H63D homozygous status explained the highest iron overload in our patients. This favors clinical expression of porphyria cutanea tarda. This iron overload due to HFE mutations is a new triggering factor of porphyria cutanea tarda independent of classical triggering factors: mutation of the erythrocytic uroporpyrinogen decarbocylase gene, alcohol abuse, hepatitis C, and drugs.
Should all patients with diabetes mellitus be screened for hemochromatosis?

Department of Family Medicine University of California, Los Angeles 924 Westwood Blvd, Suite 650 Los Angeles, CA 90095-1628

West J Med 2002;176:110-114

Enhanced case finding becomes the first stage in a public health response when evidence has emerged for an effective early treatment of a disorder. It means the detection of HHC at the time of early symptoms, and it allows patients to benefit from early phlebotomy. The implementation of this approach would include adding fasting serum transferrin saturation to the usual workup of patients with newly diagnosed diabetes mellitus, arthritis, and impotence. The CDC recommends such iron-overload testing in anyone with possible symptoms of hemochromatosis, which includes patients with newly diagnosed diabetes mellitus.
Should we genetically test everyone for haemochromatosis?
J Med Ethics. 1999 Apr This paper will identify and discuss key issues regarding DNA-based population screening for haemochromatosis, and argue that population-based genetic screening for haemochromatosis should be supported when a number of contentious issues are addressed.
Significance of "minor" genetic mutations in hereditary hemochromatosis: 2 case reports
Ann Ital Med Int. 2000 Jul-Sep These two cases concord with the present scientific orientation, i.e.: 1) homozygosity for the major mutation is associated with the phenotypical (clinical) picture of hemochromatosis, but compound heterozygosity also determines significant iron metabolism abnormalities; 2) homozygosity for the minor mutation does not appear to determine important phenotypical abnormalities.
The diagnosis of hemochromatosis in the era of the gene Ann Endocrinol (Paris). 1999 Sep [article in French] The discovery of the hemochromatosis gene has deeply changed and simplified the diagnosis of the disease. In a given individual, establishing the diagnosis relies, from now on, on a simple blood sample showing the couple: elevated transferrin saturation and homozygous C282Y mutation (= C282Y +/+). Liver biopsy should only be performed when iron overload is massive in order to detect cirrhosis (or bridging fibrosis), i.e. in a prognostic view.
The haemochromatosis gene: a co-factor for chronic liver diseases?
J Gastroenterol Hepatol. 1999 Aug George DK, Powell LW, Losowsky MS Iron loading of mild to moderate degree due to heterozygosity or homozygosity for the haemochromatosis genetic mutations acts as a significant hepatotoxin aggravating hepatic damage from other causes of liver disease.
The Hemochromatosis 845 A and 187 CG Mutations: Prevalence in Non-Caucasian Populations
Am. J. Hum. Genet., 62:1403-1407, 1998. Although hemochromatosis is common in Caucasians, affecting 1/300 individuals of northern European origin, it has not been recognized in other populations. The present study used PCR and restriction-enzyme digestion to analyze the frequency of the 845 GA and 187 CG mutations in HLA-typed samples from non-Caucasian populations, comprising Australian Aboriginal, Chinese, and Pacific Islanders.
The HFE CYS282Tyr polymorphism is associated with cardiovascular mortality.


Roest M, Schouw Yvd, B. de Valk BD, Marx JJM, Tempelman M, de Groot P, Sixma J, Banga JD. Presented at the July 1998 meeting of the European Iron Club. Conclusions: Heterozygosity for HH is associated with increased risk of cerebrovascular and total cardiovascular mortality, in particular in combination with hypertension and smoking. Long term exposure to minimal iron overload may enhance atherosclerosis.
The S65C mutation in Spain. Implications for iron overload screening
Hereditary hemochromatosis is related to mutations of the HFE gene. The role of the S65C mutation of this gene was evaluated in a Spanish population, consisting of 100 controls and 41 patients who had resulted positive to screening for iron overload. Only one patient was heterozygous for the S65C mutation, so the S65C mutation is infrequent in our area. Nevertheless, it is advisable to search for this mutation in cases with iron overload and heterozygosity for the C282Y or H63D mutations of the HFE gene.
The significance of the 187G (H63D) mutation in hemochromatosis
Am J Hum Genet 1997 Sep. No abstract available.
Use of HFE Mutation Analysis for Hereditary Hemochromatosis: The Need for Physician Education in the Translation of Basic Science to Clinical Practice Manish Kohli, MB, ChB, Steven A. Schichman, MD, PhD, Louis Fink, MD, Clive S. Zent, MB, BCh, Department of Internal Medicine, Division of Hematology/Oncology and the Department of Pathology, John L. McClellan Memorial Veteran's Hospital and University of Arkansas for Medical Sciences, Little Rock. Southern Medical Journal
What's new in hemochromatosis. Curr Opin Hematol 2001 Mar The high correlation of HFE to HHC has caused it to be considered as a candidate gene for population-based genetic testing for diagnosis and detection of predisposition to HHC.
Will Your Genes Prevent You From Getting Health Insurance? St. Louis University News Release October 13, 2000 "People may be reluctant to take advantage of genetic tests that could save their lives," Dr. Bacon said. "In hemochromatosis, for example, symptoms usually do not appear until between 40 and 60 years of age. By then, the patient may have already sustained serious liver damage. Early detection is essential. No one should be afraid to seek information to make educated choices regarding their health."
Screening for hereditary haemochromatosis should be implemented now.
BMJ 2000;320:183 ( 15 January ) We believe that to benefit all those at risk there is an ethical imperative to implement screening for the major mutation causing haemochromatosis now, rather than wait years for confirmation of what is currently known that at least half of those with the predisposing genotype will develop some form of the disease.
---
Links related to genetic discrimination issues:
Hemochromatosis Special American Liver Foundation newsletter, ALF Progress, Vol. 21 No. 1, Summer 1999 The ALF newsletter created three scenarios based on the real life ethical, economic and medical quandaries posed by hemochromatosis, and asked three experts from divergent fields to respond with their opinions. The experts are: Bruce R. Bacon, MD [Director, Div. of Gastroenterology & Hepatology, Saint Louis University School of Medicine, St. Louis, M0]; medical ethicist Mark A. Rothstein, Esq. [Director, University of Houston Law Center, Health Law & Policy Institute, Houston, TX] and hemachromatosis patient Gayle Hoffman.
Click on this link to read about HH. Discussion of a liver biopsy is also here: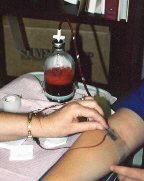 Back to the "Munnsters" main Hemochromatosis page