Cardiac links, abstracts, articles, etc.
Click on the title to read more about iron & the heart.

---
A history of phlebotomy therapy for hemochromatosis. Crosby WH. Chapman Cancer Center, Joplin, MO Am J Med Sci 1991 Jan The earlier the disease is discovered, the less risk of morbidity and mortality. Screening tests (serum iron, total iron-binding capacity, serum ferritin) are recommended for all blood relatives of index cases of this hereditary disease and for all clinics where complications of hemochromatosis may be treated: liver disorder however mild, diabetes mellitus, heart disease, arthropathies, sterility, impotence, premature menopause, and abnormal pigmentation of the skin.
Biochemical and Genetic Markers of Iron Status and the Risk of Coronary Artery Disease: An Angiography-based Study. Clin Chem 2002 Apr;48(4):622-8 Bozzini C, Girelli D, Tinazzi E, Olivieri O, Stranieri C, Bassi A, Trabetti E, Faccini G, Pignatti PF, Corrocher R. Department of Clinical and Experimental Medicine, Department of Mother and Child, Biology and Genetics, and. the Institute of Clinical Chemistry, University of Verona, 37134 Verona, Italy. CONCLUSIONS: Our results do not support a role for biochemical or genetic markers of iron stores as predictors of the risk of CAD or its thrombotic complications.
Cardiac hemochromatosis: beneficial effects of iron removal therapy. An echocardiographic study.
Statistically significant increases in left ventricular (LV) mass, end-diastolic and end-systolic diameters of the left ventricle and in left atrial dimension were observed in patients with IH; significant changes of systolic function indexes (decrease in fractional shortening and ejection fraction and increase in distance of the E point to the septum) were seen as well. Am J Cardiol 1983 Oct 1
Cardiomyopathy as the cause of death in genetic hemochromatosis-.
Z Gastroenterol. 1996 Mar [article in German] The reports of these two cases underline that hemochromatosis-associated cardiomyopathy is often irreversible if severe congestive heart failure is present. In cardiac decompensation heart transplantation has to be considered as early as possible.
Chronic iron overload and toxicity: clinical chemistry perspective. Clin Lab Sci 2001 Summer; This toxicity involves many organs leading to a variety of serious diseases such as liver disease, heart disease, diabetes mellitus, hormonal abnormalities, dysfunctional immune system, etc. The tissue damage associated with iron overload is believed to result primarily from free radical reactions mediated by iron.
Clinical Consequences of New Insights in the Pathophysiology of Disorders of Iron and Heme Metabolism Hematology 2000 The American Society of Hematology The screening strategy could be based on the assessment of serum transferrin saturation in adults aged 18 or more. Genetic testing testing for C282Y would be confined to individuals with transferrin saturation > 45%. This strategy would then avoid the ethical, logistical, and financial problems raised by systematic genetic testing as well as the societal impact of discovering a genetic mutation in asymptomatic persons without a disease. It is, in fact, essential that major changes occur in the attitudes towards unexpressed or slightly expressed HFE homozygosity, especially by insurers and health care administrators, to avoid any adverse genetic discrimination.
Clinical management of iron overload. Gastroenterol Clin North Am. 1998 Sep HHC is a common inherited disorder, characterized by iron accumulation in the liver, heart, pancreas, and other organs. The clinical consequences of systemic iron loading are diverse and not always improved with iron reduction therapy.
Clinical Studies of Haemochromatosis Queensland Institute of Medical Research, Hepatocellular Cancer Laboratory, Professor Lawrie Powell Knowledge of haemochromatosis, its prevention, the type and severity of symptoms it causes, the availability and nature of treatment, ability of sufferers to participate in normal activities, and longevity are relevant issues for community education. Members of an informed public can mobilise support for the early diagnosis of haemochromatosis, encourage people to be tested for the disorder and influence the debate about screening.
Combined orthotopic heart and liver transplantation for genetic hemochromatosis.
J Heart Lung Transplant. 1997 May Division of Cardiovascular Diseases and Internal Medicine, Mayo Clinic and Mayo Foundation, Rochester, Minnesota, 55905, USA. A 47-year-old man with cirrhotic liver disease complicated by encephalopathy and class IV congestive heart failure caused by genetic hemochromatosis underwent combined orthotopic heart and liver transplantation. The patient remains well, working full time, 4 years after operation. Combined heart and liver transplantation is an effective therapy for selected patients with concurrent heart and liver failure caused by systemic iron overload.
Current concepts in rational therapy for haemochromatosis.
Drugs. 1991 Jun . Venesection should be continued until all excess iron stores are removed as judged by failure of a rise in haemoglobin concentration on cessation of phlebotomy. Screening of first degree relatives should commence from a young age (e.g. 10 years).
Diagnosis and management of hemochromatosis by Dr. Anthony Tavill, Director of the Maurice and Sadie Friedman Center For Digestive Diseases and Liver Disorders, Mathile and Morton J. Stone Professor of Digestive Diseases and Liver Disorders at the Mt. Sinai Medical Center, Professor of Medicine and Nutrition at Case Wetern Reserve University. [Excellent & thorough article of diagnosis & treatment. This is a pdf file]
Diagnosis and treatment of genetic hemochromatosis Rev Prat. 2000 May 1 [Article in French]
Moirand R, Guillygomarc'h A, Brissot P, Deugnier Y. The disease can be lethal due to liver disease, carcinoma or heart disease, but life expectancy goes to normal if patients are treated before the occurrence of cirrhosis. Treatment relies on regular venesections. Familial screening is essential.
Dietary Iron Supplements - Use or not to use? Nutrition Today James R. Connor John L. Beard 05-06-1997 There is little reason to support a general need for iron supplementation in the diet at any age. Perhaps this article and review of supplementation pros and cons should conclude with a new interpretation of an old saying: "It is better to wear out than to rust out;" don't expose your system to more iron than it needs.
Disease-Related Conditions in Relatives of Patients with Hemochromatosis
Zaneta J. Bulaj, M.D., Richard S. Ajioka, Ph.D., John D. Phillips, Ph.D., Bernard A. LaSalle, B.S., Lynn B. Jorde, Ph.D., Linda M. Griffen, B.A., Corwin Q. Edwards, M.D., and James P. Kushner, M.D. Volume 343:1529-1535 November 23, 2000 Number 21 In conclusion, our data emphasize the importance of screening relatives of persons with hemochromatosis.
Epidemiology, clinical spectrum and prognosis of hemochromatosis, abnormality in liver function tests (75%), weakness and lethargy (74%), skin hyperpigmentation (70%), diabetes mellitus (48%), arthralgia (44%), impotence (45% in males), and ECG abnormalities (31%) were the most frequent findings and symptoms at diagnosis. Adv Exp Med Biol 1994
Excess Iron Damages Blood Vessels
Optimal Wellness Center Issue 179 November 12, 2000 Dr. Joseph Mercola. Although iron is an essential and important nutrient, excessive levels can cause significant harm. A new study has shown that excess iron can cause damage to the endothelium, the inner lining of blood vessels, boosting a person's chances of developing hardening of the arteries (atherosclerosis) and heart attack.
Excess Iron Throws Out Welcome Mat to Bacteria Heart, liver, intestines may suffer from over-fortified diet 11/2/2001 News By Serena Gordon HealthScoutNews Reporter

(HealthScoutNews) -- Too much iron in the diet could be making people more susceptible to intestinal infections, claims a new study. And that puts into question whether U.S. food makers need to fortify foods with iron, says one of the nutritionists who conducted the research.
FINAL DIAGNOSES:
A case of Hereditary Hemochromatosis with dilated cardiomyopathy, micronodular cirrhosis, history of chronic alcoholism from Department of Pathology, University of Pittsburgh School of Medicine.
Fried reich's Ataxia Fact Sheet ......the finding of abnormally high levels of iron in the heart tissue of people with Friedreich's ataxia National Institute of Neurological Disorders and Stroke
Genetic Haemochromatosis: A guideline on Diagnosis & Therapy compiled on behalf of the Clinical Task Force of the British Committee for Standards in Haemotology 2/2000 [a pdf file]
Haemochromatosis and Diabetes– By Paul Steel
Paul Steel is a diabetes educator with Manningham Community Health Service in Victoria. He has both a personal and professional interest in haemochromatosis, the most common genetic disorder in Australia, occurring in about one in 300 people.
Hemochromatosis: a review. Clin J Oncol Nurs 2001 Nov-Dec;5(6):257-60 Dolbey CH. Fletcher Allen Health Care, UHC Campus, Arnold 2, 1 South Prospect Avenue, Burlington, VT, 05401, USA. This disorder affects the liver, pancreas, heart, and endocrine systems, and if undetected and untreated, organ damage and death can result.
Hemochromatosis, A simple genetic trait,
Dr. Richard D. Press, Oregon Health Sciences University With the discovery of the causative gene, the disorder stands revealed as America's single most common mendelian disease. Unlike other genetic diseases, it is already curable. Indeed, genetic screening makes it potentially preventable.
Hemochromatosis can now be appropriately defined as the presence of two hemochromatosis alleles with or without organ injury, and with or without the presence of iron overload. [I have not been able to retrieve the url to the website from where this came, so if anyone locates it, please let me know!]
Hemochromatosis: Conemaugh Health System Hemochromatosis is a condition that develops when too much iron builds up in the body. Excess iron is stored in the organs, such as the kidneys, liver, and heart, and in the joint tissues.
Hemochromatosis, Cooley Dickinson Hospital

Editor: George R Bowers MD CDH Oncology

January 2000 Volume 4: No. 1. Hemochromatosis is a common, genetically transmitted disease. The diagnosis of hemochromatosis is sometimes difficult and frequently missed. This issue will review the pathogenesis, diagnosis and treatment of this fascinating disease. Ms. Kathy Fleming will review the management of a most troubling complication of therapy---lymphedema.
Hemochromatosis in Ireland and HFE. Blood Cells Mol Dis. 1998 The allele frequency of 14% for the C282Y mutation in our control population is the highest reported and supports the hypothesis of a Celtic origin for the hereditary hemochromatosis gene.[pdf file]
Hemochromatosis: Life Extension Foundation website. Disease, Prevention & Treatment 3rd editon. Dietary & Vitamin recommendations listed here including calcium for blocking of iron absorption.
Hemochromatosis Special American Liver Foundation newsletter, ALF Progress, Vol. 21 No. 1, Summer 1999 The ALF newsletter created three scenarios based on the real life ethical, economic and medical quandaries posed by hemochromatosis, and asked three experts from divergent fields to respond with their opinions. The experts are: Bruce R. Bacon, MD [Director, Div. of Gastroenterology & Hepatology, Saint Louis University School of Medicine, St. Louis, M0]; medical ethicist Mark A. Rothstein, Esq. [Director, University of Houston Law Center, Health Law & Policy Institute, Houston, TX] and hemachromatosis patient Gayle Hoffman.
Hereditary hemochromatosis. Ann Clin Lab Sci. 1998 Sep-Oct Patients at risk for genetic hemochromatosis should be screened, identified, and treated as early as age 20 to prevent or minimize the deadly complications of hemochromatosis. Population screening should include measurements of serum iron concentration, total iron binding capacity (TIBC), percent saturation of transferrin, and serum ferritin concentrations. Early diagnosis and treatment will reduce the population of aging individuals with severe, complicated hemochromatosis and dramatically reduce medical costs (billions of U.S. dollars per annum) associated with the management of this disease.
Hereditary Hemochromatosis--A Risk Factor for Cardiovascular Disease The HH mutation is a human genetic model of disturbed iron metabolism, which facilitates research to the mechanism of HH and iron involved in cardiovascular disease. We expect that in the near future, the mechanism of disturbed iron metabolism leading to cardiovascular disease in human will be better understood.
Hereditary Hemochromatosis
CME Activity, Release Date: 2/28/2000 Expiration Date: 2/28/2002 From the February 2000 Issue of Physician Assistant Objectives: After reading the article, the reader should be able to:
1. describe the pathophysiology of hereditary hemochromatosis;
2. recognize the clinical symptoms and signs of hereditary hemochromatosis;
3. outline screening and evaluation testing; and
4. provide accurate diagnosis, management, and treatment.
Hereditary Hemochromatosis FamilyPractice.com Robert B. Hash, MD,

Department of Family Medicine, Mercer University School of Medicine, Macon, Ga.

[J Am Board Fam Pract Dec. 2000]

Considering the prevalence of the disease, it is important for physicians to consider it in the differential diagnosis when patients complain of the common signs and symptoms. For most patients hereditary hemochromatosis can be successfully treated in the physician's office. Early diagnosis and treatment, before signs of iron toxicity, if possible, can result in improved quality and quantity of life for many patients.
Hereditary hemochromatosis in children, adolescents, and young adults. Am J Pediatr Hematol Oncol. 1988 Spring Young individuals who should be screened for iron overload include patients with cardiac myopathies, hypogonadism, amenorrhea, loss of libido, diabetes mellitus, other endocrine disorders, cirrhosis of the liver, and arthritis, as well as the siblings, parents, and children of patients with hereditary hemochromatosis or iron loading of unknown cause.
Hereditary hemochromatosis.
J Fam Pract, 44(3):304-8 1997 Mar Hereditary hemochromatosis is a genetic disorder of iron metabolism that has an excellent prognosis if diagnosed early.
HFE gene knockout produces mouse model of hereditary hemochromatosis Proc Natl Acad Sci U S A. 1998 Mar. Xiao Yan Zhou, Shunji Tomatsu, Robert E. Fleming, Seppo Parkkila, Abdul Waheed, Jinxing Jiang, Ying Fei, Elizabeth M. Brunt, David A. Ruddy, Cynthia E. Prass, Randall C. Schatzman, Rosemary O'Neill, Robert S. Britton, Bruce R. Bacon, and William S. Sly The knockout mouse model of HH will facilitate investigation into the pathogenesis of increased iron accumulation in HH and provide opportunities to evaluate therapeutic strategies for prevention or correction of iron overload.
Iron catalyzed oxidative damage, in spite of normal ferritin and transferrin saturation levels and its possible role in Werner's syndrome, Parkinson's disease, cancer, gout, rheumatoid arthritis, etc. Med Hypotheses 2000 Sep the disease is often overlooked by physicians, until several organs have been damaged permanently (heart, liver, brain, pancreas, kidneys, spleen, etc.). Moreover, since ferritin, transferrin saturation and hematocrit levels are not directly related to cellular iron levels, and since excess iron can wreak havoc in the cell, we can conclude that there is a need for a better way to evaluate intracellular iron levels and especially the intracellular free iron levels by a non-invasive technique.
'Iron' Gene Mutation Increases Heart Attack Risk
Full Health Nutrition Canada ArterialHealth e-News© December 1999 [located about halfway down the page] Those with an abnormal iron gene faced a 52% increased risk of heart attack with each 100 microgram increase in ferritin, while the risk in those with normal iron genes varied little with ferritin concentration. Carriers almost universally don't know that they are at increased risk... They have almost no increase in iron stores, but that small increase is significant and that small increase is probably what caused the increased incidence of heart disease deaths.
Iron Loading and Disease Surveillance
Eugene D. Weinberg Indiana University, Bloomington, Indiana Emerging Infectious Diseases Journal, National Center for Infectious Diseases, Centers for Disease Control and Prevention. Excessive iron in specific tissues and cells (iron loading) promotes development of infection, neoplasia, cardiomyopathy, arthropathy, and various endocrine and possibly neurodegenerative disorders.
Iron Overload Disease due to Hereditary Hemochromatosis CDC website,

National Center for Chronic Disease Prevention and Health Promotion. Early detection and treatment for this genetic condition can lessen morbidity and mortality, and in some cases prevent the onset of disease. Therefore, early detection of hemochromatosis represents a major chronic disease prevention opportunity.
Iron Overload Disorder Common and Increases Risk for Heart Attacks Issue 117 September 5, 1999 Optimal Wellness Health News Excerpt from Dr. Mercola's comments: The simple screening test to check for this problem is the serum ferritin level. It should be below 80. If it is significantly above 100, there is a high likelihood of hemochromatosis. I screen all of our heart disease patients for this and I probably see it on nearly ten percent of these patients.
Iron Overload (Hemosiderosis; Hemochromatosis) The Merck Manual of Diagnosis and Therapy Section 11. Hematology And Oncology Chapter 128. Hemochromatosis is often diagnosed late in the course of disease after significant tissue injury is present because the clinical symptoms are insidious and the extent of organ involvement varies; thus, the full clinical picture evolves slowly
Iron: 'Too Much Is A Problem'
by Joseph B. Verrengia [News Science Writer] High levels of iron, already considered to be a major risk factor in heart attacks, are being implicated in the progression of AIDS, Lou Gehrig's disease and cancer. "Iron will be the cholesterol of the 1990s," McCord predicts, ". . .most people don't know their iron status."
Long-term survival in patients with hereditary hemochromatosis Gastroenterology, Vol 110, 1107-1119, 1996 by American Gastroenterological Association Prognosis of hemochromatosis and most of its complications, including liver cancer, depend on the amount and duration of iron excess. Early diagnosis and therapy largely prevent the adverse consequences of iron overload.
Management of hereditary hemochromatosis. Blood Rev. 1994 Dec Phatak PD, Cappuccio JD. Early diagnosis and institution of phlebotomy treatments will prevent these manifestations and normalize life expectancy. Once organ damage is established many of the manifestations are irreversible. Since the early manifestations of the disease are subtle, a case can be made for routine screening.
Molecular genetics of hemochromatosis Ann Endocrinol (Paris) 1999 Sep Hemochromatosis is a recessive disorder of iron metabolism characterized by progressive iron loading of parenchymal organs, which accounts for clinical complications such as cirrhosis, diabetes mellitus, cardiopathy, endocrine dysfunctions and arthropathy.
Most People Get Too Much Not Too Little Iron Optimal Wellness Center Issue 200 March 7, 2001 Dr. Joseph Mercola. DR. MERCOLA'S COMMENT: I have warned about the dangers of iron many times before in this newsletter. It is a potentially dangerous supplement and it needs to be used very cautiously, especially in those with an increased risk of heart disease.
Pathology Cases for Diagnosis: A 37 year old male is referred to the liver clinic for evaluation of abnormal liver related enzymes. Includes pictures of biopsy slides. Case 96-19: Liver II Contributed by D. Robert Dufour, M.D., CAPT, MC, USNR-R Date Available: July 22, 1996 - December 31, 1996
Practice guideline development task force of the College of American Pathologists. Hereditary hemochromatosis. Witte DL, Crosby WH, Edwards CQ, Fairbanks VF, Mitros FA. College of American Pathologists Clin Chim Acta 1996 Feb. In view of the high prevalence in the American population (prevalence varies with ethnic background), the low cost of diagnosis and treatment, the efficacy of treatment if begun early, and, on the other hand, high costs and low success rate of late diagnosis and treatment, systematic screening for hemochromatosis is warranted for all persons over the age of 20 years.
PULLING IRON OUT OF THE FIRE

by Shelly Morrow

.

This article appeared in the Sept/Oct 2000 issue of Arthritis Today, published

by the Arthritis Foundation, Inc.
Refractory heart failure in a 26-year-old woman with idiopathic hemochromatosis
Rev Port Cardiol. 1994 Oct In this paper, we report a case of a young woman with a eight years evolution of amenorrhea, cardiac failure, diabetes mellitus and increased pigmentation of the skin, associated with biochemical markers of iron overload. It is emphasized that hemochromatosis most be excluded in all patients with a unexplained cardiac failure.
Restrictive Cardiomyopathy
Targeted therapy directed against specific causal entities (such as the use of somatostatin analogues in carcinoid syndrome or iron chelation with desferrioxamine in hemochromatosis) may be more effective than simple symptomatic therapy. Curr Treat Options Cardiovasc Med 2000 Oct
Safety aspects of iron in food.
Ann Nutr Metab 2001; There is no regulated iron excretion in overload. Excess of pharmaceutical iron may cause toxicity and therapeutic doses may cause gastrointestinal side effects.
Secondary and Infiltrative Cardiomyopathies Curr Treat Options Cardiovasc Med 2000 Oct Rush Heart Failure and Cardiac Transplant Program, Rush-Presbyterian-St. Luke's Medical Center, 1725 West Harrison Street, Suite 439, Chicago, IL Patients with hemochromatosis related cardiomyopathy should be treated with iron chelation therapy and phlebotomy.
The articular damage of hemochromatosis. A little known aspect Recenti Prog Med 1999 Apr The aim of this report is to underline that the patients with premature osteoarthritis or unexplained chondrocalcinosis must be screened for genetic haemochromatosis in order to formulate the correct diagnosis before the development of severe internal organ involvement
The HFE CYS282Tyr polymorphism is associated with cardiovascular mortality.
Roest M, Schouw Yvd, B. de Valk BD, Marx JJM, Tempelman M, de Groot P, Sixma J, Banga JD. Presented at the July 1998 meeting of the European Iron Club. Conclusions: Heterozygosity for HH is associated with increased risk of cerebrovascular and total cardiovascular mortality, in particular in combination with hypertension and smoking. Long term exposure to minimal iron overload may enhance atherosclerosis.
The relationship between iron overload, clinical symptoms, and age in 410 patients with genetic hemochromatosis. Hepatology. 1997 Jan The nonspecific nature of the presenting features in patients and the presence of significant clinical symptoms in patients discovered through family investigations underscore the importance of family and population screening for hemochromatosis. The prevalence of cirrhosis, diabetes, cardiac disease, pigmentation, and fatigue increased as liver iron concentration increased. The most common presentations at diagnosis were fatigue
Too fit for a heart attack?
Well known marathon runner and author Jim Fixx had just had a checkup. His values were normal, including cholesterol, so the doctor declared him fit. Two days later he died of a heart attack.
Too Much Iron in Your Blood? Then donate a pint. Research shows a possible link between higher blood iron levels and risk of heart disease. Some experts say it's another great reason to give blood. By Michael Alvear WebMD Medical News
Use of HFE Mutation Analysis for Hereditary Hemochromatosis: The Need for Physician Education in the Translation of Basic Science to Clinical PracticeManish Kohli, MB, ChB, Steven A. Schichman, MD, PhD, Louis Fink, MD, Clive S. Zent, MB, BCh, Department of Internal Medicine, Division of Hematology/Oncology and the Department of Pathology, John L. McClellan Memorial Veteran's Hospital and University of Arkansas for Medical Sciences, Little Rock. Southern Medical Journal
Click on this link to read about HH. Discussion of a liver biopsy is also here: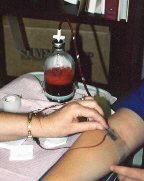 Back to the "Munnsters" main Hemochromatosis page