Basic stats!
Click on the title to find general information on HH.
---
Asymptomatic hemochromatosis subjects: genotypic and phenotypic profiles
Blood, 1 December 2000, Vol. 96, No. 12, pp. 3707-3711; Ronald L. Sham, Richard F. Raubertas, Caroline Braggins, Joseph Cappuccio, Margaret Gallagher, and Pradyumna D. Phatak; From the Department of Medicine, Rochester General Hospital, the Mary M. Gooley Hemophilia Center Inc, and The University of Rochester School of Medicine and Dentistry, Rochester, NY; and The Centers for Disease Control and Prevention, Atlanta GA. Our study demonstrates that TS screening will identify many individuals with only modest degrees of iron loading who may not meet traditional phenotypic diagnostic criteria but who have genotypes associated with iron loading. Those with lower degrees of iron overload are less likely to be C282Y homozygotes.
CDC Search Results List This search of the Centers for Disease Control site yields about 169 results with various information on Hemochromatosis.
Classification and diagnosis of iron overload
Haematologica 1998 May The recent description of new conditions associated with iron overload and the identification of the genetic defect of hereditary hemochromatosis prompted us to review this subject and to redefine the diagnostic criteria of iron overload disorders.
Clinical aspects of hemochromatosis. Transfus Sci. 2000 Dec Brissot P, Guyader D, Loreal O, Laine F, Guillygomarc'h A, Moirand R, Deugnier Y. The diagnosis can, from now on, be ascertained on the sole association of a plasma transferrin saturation (TS) over 45% and homozygosity for the C282Y mutation. Liver biopsy is only required to search for cirrhosis whenever there is hepatomegaly and/or serum ferritin >1000 ng/ml and/or elevated serum AST.
Clinical Consequences of New Insights in the Pathophysiology of Disorders of Iron and Heme Metabolism Hematology 2000 The American Society of Hematology The screening strategy could be based on the assessment of serum transferrin saturation in adults aged 18 or more. Genetic testing testing for C282Y would be confined to individuals with transferrin saturation > 45%. This strategy would then avoid the ethical, logistical, and financial problems raised by systematic genetic testing as well as the societal impact of discovering a genetic mutation in asymptomatic persons without a disease. It is, in fact, essential that major changes occur in the attitudes towards unexpressed or slightly expressed HFE homozygosity, especially by insurers and health care administrators, to avoid any adverse genetic discrimination.
Clinical management of iron overload. Gastroenterol Clin North Am. 1998 Sep HHC is a common inherited disorder, characterized by iron accumulation in the liver, heart, pancreas, and other organs. The clinical consequences of systemic iron loading are diverse and not always improved with iron reduction therapy.
Current concepts in rational therapy for haemochromatosis.
Drugs. 1991 Jun . Venesection should be continued until all excess iron stores are removed as judged by failure of a rise in haemoglobin concentration on cessation of phlebotomy. Screening of first degree relatives should commence from a young age (e.g. 10 years).
Diagnosis and management of hemochromatosis
by Dr. Anthony Tavill, Director of the Maurice and Sadie Friedman Center For Digestive Diseases and Liver Disorders, Mathile and Morton J. Stone Professor of Digestive Diseases and Liver Disorders at the Mt. Sinai Medical Center, Professor of Medicine and Nutrition at Case Wetern Reserve University. [Excellent & thorough article of diagnosis & treatment. This is a pdf file]
Dietary Iron Supplements - Use or not to use? Nutrition Today James R. Connor John L. Beard 05-06-1997 There is little reason to support a general need for iron supplementation in the diet at any age. Perhaps this article and review of supplementation pros and cons should conclude with a new interpretation of an old saying: "It is better to wear out than to rust out;" don't expose your system to more iron than it needs.
Epidemiology, clinical spectrum and prognosis of hemochromatosis,
abnormality in liver function tests (75%), weakness and lethargy (74%), skin hyperpigmentation (70%), diabetes mellitus (48%), arthralgia (44%), impotence (45% in males), and ECG abnormalities (31%) were the most frequent findings and symptoms at diagnosis. Adv Exp Med Biol 1994
Genetic Haemochromatosis: A guideline on Diagnosis & Therapy compiled on behalf of the Clinical Task Force of the British Committee for Standards in Haemotology 2/2000 [a pdf file]
Haemochromatosis: iron still matters.
Intern Med J 2001 May-Jun Our ability to detect those predisposed to haemochromatosis is greatly enhanced by testing for HFE mutations. Although the precise definition of iron overload is debated, a diagnosis of haemochromatosis cannot be made without demonstrating increased body iron stores.
Hemochromatosis can now be appropriately defined as the presence of two hemochromatosis alleles with or without organ injury, and with or without the presence of iron overload. [I have not been able to retrieve the url to the website from where this came, so if anyone locates it, please let me know!]
Hemochromatosis eMedicine Journal, December 7 2001, Volume 2, Number 12, Authored by Sandor Joffe, MD, Section Chief of Abdominal Imaging, Department of Radiology, Beth Israel Medical Center This article covers the pathophysiology of hemochromatosis as well as the techniques in using ULS, CT & MRI to identify iron deposition in the organs. Pictures & descriptions from scans of the abdomen are shown.
Hemochromatosis: a review. Clin J Oncol Nurs 2001 Nov-Dec;5(6):257-60 Dolbey CH. Fletcher Allen Health Care, UHC Campus, Arnold 2, 1 South Prospect Avenue, Burlington, VT, 05401, USA. This disorder affects the liver, pancreas, heart, and endocrine systems, and if undetected and untreated, organ damage and death can result.
Hemochromatosis, Cooley Dickinson Hospital Editor: George R Bowers MD CDH Oncology January 2000 Volume 4: No. 1. Hemochromatosis is a common, genetically transmitted disease. The diagnosis of hemochromatosis is sometimes difficult and frequently missed. This issue will review the pathogenesis, diagnosis and treatment of this fascinating disease. Ms. Kathy Fleming will review the management of a most troubling complication of therapy---lymphedema.
Hemochromatosis: diagnosis and management. Bacon BR. Gastroenterology 2001 Feb HFE mutation analysis has strengthened our ability to diagnose HH accurately and is useful in family studies. HFE mutations may play a contributory role in some patients with PCT, NASH, or chronic HCV.
Hemochromatosis: Life Extension Foundation website. Disease, Prevention & Treatment 3rd editon. Dietary & Vitamin recommendations listed here including calcium for blocking of iron absorption.
Hereditary Haemochromatosis and Iron Metabolism,
Carlson J, Olsson S, eJIFCC vol 13 no 2, THE JOURNAL OF THE INTERNATIONAL FEDERATION OF CLINICAL CHEMISTRY. Iron is easily removed from tissues through regular phlebotomy once a week until depleted iron stores are evident by S- ferritin < 30 µg/l. An early laboratory finding seen in HH is an abnormal saturation of transferrin (TS)to a level >45%.
Hereditary hemochromatosis. Ann Clin Lab Sci. 1998 Sep-Oct Patients at risk for genetic hemochromatosis should be screened, identified, and treated as early as age 20 to prevent or minimize the deadly complications of hemochromatosis. Population screening should include measurements of serum iron concentration, total iron binding capacity (TIBC), percent saturation of transferrin, and serum ferritin concentrations. Early diagnosis and treatment will reduce the population of aging individuals with severe, complicated hemochromatosis and dramatically reduce medical costs (billions of U.S. dollars per annum) associated with the management of this disease.
Hereditary Hemochromatosis. A Public Health Perspective "Early detection of iron overload disease represents a major chronic disease prevention opportunity. Detection and treatment (phlebotomy) of iron overload, early in the course of the illness, can substantially reduce the severity of symptoms, organ damage, and death from associated chronic diseases." David Satcher, MD, PhD Assistant Secretary for Health and U.S. Surgeon General, This Public Health Perspective: Hereditary Hemochromatosis was a collaborative effort by the CDC's Office of Genetics and Disease Prevention and members of the Hemochromatosis team at the Division of Nutrition and Physical Activity at CDC's National Center for Chronic Disease Prevention and Health Promotion. (April 2001)
Hereditary Hemochromatosis
CME Activity, Release Date: 2/28/2000 Expiration Date: 2/28/2002 From the February 2000 Issue of Physician Assistant Objectives: After reading the article, the reader should be able to:
1. describe the pathophysiology of hereditary hemochromatosis;
2. recognize the clinical symptoms and signs of hereditary hemochromatosis;
3. outline screening and evaluation testing; and
4. provide accurate diagnosis, management, and treatment.
Hereditary Hemochromatosis FamilyPractice.com Robert B. Hash, MD,

Department of Family Medicine, Mercer University School of Medicine, Macon, Ga.

[J Am Board Fam Pract Dec. 2000]

Considering the prevalence of the disease, it is important for physicians to consider it in the differential diagnosis when patients complain of the common signs and symptoms. For most patients hereditary hemochromatosis can be successfully treated in the physician's office. Early diagnosis and treatment, before signs of iron toxicity, if possible, can result in improved quality and quantity of life for many patients.
How Do I Know If I've Got Too Much Iron? "The Protein Power Lifeplan" by Michael R. Eades, MD and Mary Dan Eades, MD How much iron should you have in storage? Probably around 500 mg or a little less, which corresponds to a serum ferritin of 50 or lower.
Iron deficiency and overload in relation to nutrition Nutritional iron intake in the Netherlands. IJzertekort en ijzerstapeling met betrekking tot voeding Spanjersberg MQI ; Jansen EHJM 34 p in English, 2000 Iron supplementation or fortification in functional foods should be avoided and discouraged until the risks of iron overload have been more clearly determined, since in the general population iron overload is associated with increased risk of several chronic diseases as well.
'Iron' Gene Mutation Increases Heart Attack Risk
Full Health Nutrition Canada ArterialHealth e-News© December 1999 [located about halfway down the page] Those with an abnormal iron gene faced a 52% increased risk of heart attack with each 100 microgram increase in ferritin, while the risk in those with normal iron genes varied little with ferritin concentration. Carriers almost universally don't know that they are at increased risk... They have almost no increase in iron stores, but that small increase is significant and that small increase is probably what caused the increased incidence of heart disease deaths.
Iron Loading and Disease Surveillance
Eugene D. Weinberg Indiana University, Bloomington, Indiana Emerging Infectious Diseases Journal, National Center for Infectious Diseases, Centers for Disease Control and Prevention. Excessive iron in specific tissues and cells (iron loading) promotes development of infection, neoplasia, cardiomyopathy, arthropathy, and various endocrine and possibly neurodegenerative disorders.
Iron Overload Disorder Common and Increases Risk for Heart Attacks
Full Health Nutrition Canada ArterialHealth e-News© October 1999 A genetic defect that causes iron overload disease is the most common inherited disorder among whites, affecting one in 188 people of northern European descent.

Iron Overload (Hemosiderosis; Hemochromatosis) The Merck Manual of Diagnosis and Therapy Section 11. Hematology And Oncology Chapter 128. Hemochromatosis is often diagnosed late in the course of disease after significant tissue injury is present because the clinical symptoms are insidious and the extent of organ involvement varies; thus, the full clinical picture evolves slowly.
Management of hereditary hemochromatosis. Blood Rev. 1994 Dec Phatak PD, Cappuccio JD. Early diagnosis and institution of phlebotomy treatments will prevent these manifestations and normalize life expectancy. Once organ damage is established many of the manifestations are irreversible. Since the early manifestations of the disease are subtle, a case can be made for routine screening.
Molecular genetics of hemochromatosis
Ann Endocrinol (Paris) 1999 Sep Hemochromatosis is a recessive disorder of iron metabolism characterized by progressive iron loading of parenchymal organs, which accounts for clinical complications such as cirrhosis, diabetes mellitus, cardiopathy, endocrine dysfunctions and arthropathy.
Practice guideline development task force of the College of American Pathologists. Hereditary hemochromatosis.
Witte DL, Crosby WH, Edwards CQ, Fairbanks VF, Mitros FA. College of American Pathologists Clin Chim Acta 1996 Feb. In view of the high prevalence in the American population (prevalence varies with ethnic background), the low cost of diagnosis and treatment, the efficacy of treatment if begun early, and, on the other hand, high costs and low success rate of late diagnosis and treatment, systematic screening for hemochromatosis is warranted for all persons over the age of 20 years.
Recognizing genetic hemochromatosis. J La State Med Soc. 1994 Dec This article reviews the disease process hemochromatosis, which is now recognized as one of the most common genetic disorders. It is imperative that physicians learn to recognize early signs and symptoms of hemochromatosis so that treated patients can expect a normal life span with minimal medical intervention.
Should all patients with diabetes mellitus be screened for hemochromatosis?

Department of Family Medicine University of California, Los Angeles 924 Westwood Blvd, Suite 650 Los Angeles, CA 90095-1628

West J Med 2002;176:110-114

Enhanced case finding becomes the first stage in a public health response when evidence has emerged for an effective early treatment of a disorder. It means the detection of HHC at the time of early symptoms, and it allows patients to benefit from early phlebotomy. The implementation of this approach would include adding fasting serum transferrin saturation to the usual workup of patients with newly diagnosed diabetes mellitus, arthritis, and impotence. The CDC recommends such iron-overload testing in anyone with possible symptoms of hemochromatosis, which includes patients with newly diagnosed diabetes mellitus.
Survival and causes of death in hemochromatosis. Observations in 163 patients.
Ann N Y Acad Sci. 1988 Life expectancy was reduced in patients who presented with cirrhosis or diabetes compared to patients who presented without these complications at the time of diagnosis. Patients who could be depleted of iron during the first 18 months of venesection therapy had a markedly better prognosis compared to those patients who could not be depleted during this time period.
The relationship between iron overload, clinical symptoms, and age in 410 patients with genetic hemochromatosis. Hepatology. 1997 Jan The nonspecific nature of the presenting features in patients and the presence of significant clinical symptoms in patients discovered through family investigations underscore the importance of family and population screening for hemochromatosis. The prevalence of cirrhosis, diabetes, cardiac disease, pigmentation, and fatigue increased as liver iron concentration increased. The most common presentations at diagnosis were fatigue
Click on this link to read about HH. Discussion of a liver biopsy is also here: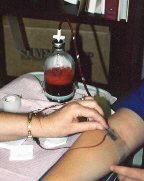 Back to the "Munnsters" main Hemochromatosis page